Truth about Shaving your Body Hair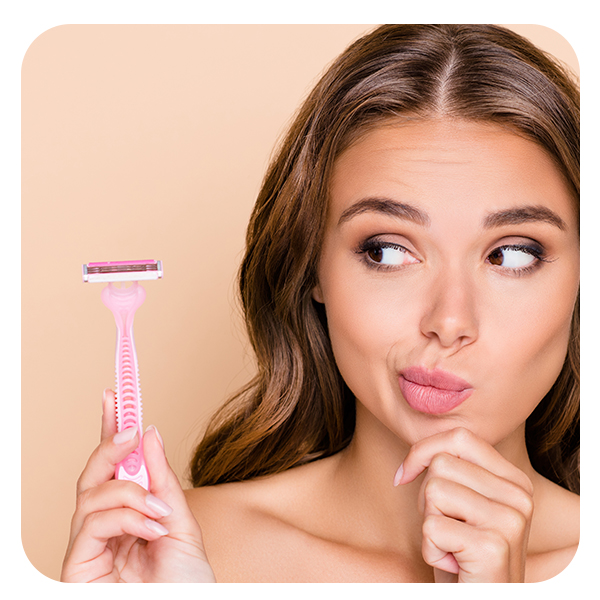 Let's face it. Body hair is inevitable. No matter your preferences or attempts to escape from it, body hair is like an uninvited guest at the party and the eternal companion that just won't take a hint.
There is an abundance of options when it comes to removing unwanted hair. While some offer to remove them forever, others overcommit to doing it with zero pain. Having said that, let us delve into the most conventional way of hair removal – shaving. 
Shaving might seem like the most convenient way to remove body hair but reality states otherwise. Also, the myths around shaving that it helps the grow faster, thicker, stronger hair remain as a delusion/folklore to this date. Truth be told, shaving is quite the opposite of convenience. If not done correctly, you might be looking at some permanent scars on your face as a result of the sharp cuts. Razor burns and itchiness are also common amongst people who regularly shave and can last for days on end. Add to that, the risk of having ingrown hair and folliculitis that results in swollen, inflamed bumps on the skin that was subjected to shaving. Talk about a nightmare!
So, what is a good alternative, you may ask. 
The answer is depilatory creams. Not just any but that of Nair. 
Nair - one part science, other part magic
Let's understand how depilatories work on your hair before understanding what Nair does beyond that. Depilatories safely remove unwanted hair from the body. They are available as a lotion or spray and break down the protein bonds that hold the hair together beneath the skin's surface.
The added advantage of Nair is that it is made with science-backed ingredients and nourishing natural elements. Products of Nair are more effective than any other depilatories out there and definitely, aeons better than regular shaving.
Their hair removal lotions in particular come infused with baby oil leaving the skin smooth and moisturised. Available in two different fragrances – rose and lemon, it is dermatologist approved and paraben free. 
An alternative to the hair removal lotions is the Nair Hair Removal Creams. It comes in four variants, each serving a different purpose. The cream leaves a moisturising effect on the skin long after it is done with the depilation. Unlike a razor, it is easier to manoeuvre through the contours of your face with a hair removal cream than compared to a razor. Also, there is this added advantage that you can always use the Nair Hair Removal Creams while being under the shower as well. So, while you practise your way to being the next Adele, you can also get rid of your unwanted hair as well.  
If you are asking what's more, try the new range of Nair Creams that are all natural and come in three variants. We have responded to the market demand of a hair removal cream that has cocoa butter in it with this new range. The second variant is one with cherry blossom extract, another crowd favourite. And the last one comes packed with the essential oil, argan. You can check them out here. 
The Nair Delicate Hair Removal Cream is yet another clinically proven product that delicately balances the harshness of hair removal while leaving the skin silky smooth and soft. It is paraben and dye free and is hands down, one of the best products available in its segment.
The Nair Rose Hair Removal Cream and the Nair Lemon Hair Removal Cream are infused with rose and lemon extracts respectively. They effortlessly remove the unwanted stubble and reveal your smooth and silky skin.
It is lightning fast [figuratively] and painless at the same time. All you need to do is apply the cream smoothly and evenly, covering the hair to be removed. After 5-6 minutes, test a small area. If the hair does not come away from the test area easily, leave on for a few minutes longer. Do not leave for more than 10 minutes in total. Remove cream with spatula. Shower off with lukewarm water or using a wet cloth if required & pat skin dry with a soft towel. Do not rub or use soap.
Nair in particular, and its products are indigenously prepared and tested to be effective on all skin types. With more than 8 decades of experience in the domain, Nair knows what you want, what your skin would be like and which product would meet your needs. Each and every product of Nair is dermatologically tested and holds a whole lot of science and innovation in its eco-friendly packaging. 
Don't wait further. Shop your favourite Nair product from here and let your hair-free skin do the talking!